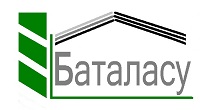 LLP "Batalasu"
West Kazakhstan region (WKO)
Address: Kazakhstan, 090000 Uralsk, st. Temir Masin, 67
Telephone: (7112) 50-79-51, (7112) 50-68-08
Fax: (7112) 50-34-74
Site: http://batalasu.kz/
E-mail: This email address is being protected from spambots. You need JavaScript enabled to view it.
"Batalasu" LLP carries out such type of activity as:
1. Construction and installation work
2. Production of mobile buildings on chassis and without chassis, without chassis, shift camps
3. Manufacture of cabinet furniture.
All our products fully comply with the requirements of regulatory documents (GOST, ST RK, TU, OST, technical regulations) in accordance with Kazakhstani and international standards and are confirmed by certificates and declarations of conformity and quality of goods.